Product update: Feedback categorization
We're thrilled to announce feedback categorization! This feature adds another layer of analysis to your data, identifying all the Questions, Issues and Requests within your customer feedback.
Themes have different levels of importance depending on how they are mentioned in feedback. A person might say "I'm a user on the premium plan. I have an issue with updating my credit card details."
The fact that they are on a premium plan is supplementary information. We can gather it from customer records. We're more interested in what issues they currently have. This is especially common in support conversations.
Thematic can help detect what type of feedback a customer has. Is this about an issue, is it a question, or a feature request?
Need to look at all the feature requests related to the search feature in your app? Use the feedback categorization filter to select 'requests' and then navigate to the search feature sub-theme. You can then scan through comments containing feature requests about search, and look at what might be worth adding to your roadmap.
Or maybe you're responsible for keeping your customer FAQ up to date. Use the feedback categorization filter to select 'questions' and then dive into the themes you need. You'll be able to add any new questions to your FAQ and prevent headaches for your contact center staff!
You may be a product manager on the lookout for any issues with a recently released feature. Previously, you could (and still can) use Thematic's 'response contains' filters to pull out any feedback mentioning the feature. But with feedback categorization, you can add the additional 'issues' filter and focus solely on responses calling out issues with the feature.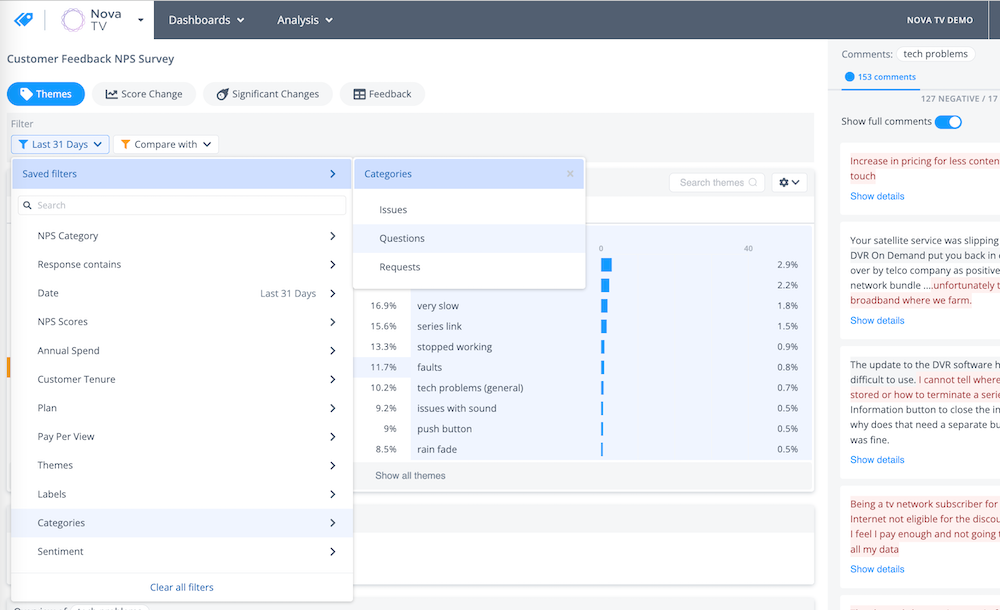 Try out feedback categorization the next time you login to Thematic, and drill down into questions, issues and requests! Feel free to reach out to Thematic at any time for assistance.
Join our Slack community where you can leave feedback on this feature, and ask questions about it to the wider community and Thematic staff.