Travel sites go head to head: Expedia vs Booking.com
Both Booking.com and Expedia are popular travel booking sites. They each have apps that handle all sorts of travel arrangements, including booking flights, hotels, car rentals, and vacation packages.
I've travelled fairly extensively, and used both of these apps. I decided to dive in and use Thematic to find out how they stack up against each other.
Want to skip ahead to the TL;DR? We've got you covered.
The differences between Expedia and Booking.com are not apparent from the score alone. On the surface, it looks like there's a clear winner, with Booking.com rated 4.4 out of 5 stars, and Expedia 2.6 out of 5 stars.
But these ratings don't tell me what people like or don't like, or what problems they have when booking travel arrangements.
To find this out, I took a deeper look at the insights from 2000 iOS app store reviews for each using Thematic. It's our feedback analytics platform that works with AI to organize and theme feedback, so you can understand what customers are saying faster and more accurately than through manual analysis.
To make it easy to compare the two apps, I've picked out four key components to assess:
User Interface
Booking and Selection
Customer Support
Pricing
User Interface and Experience:
Both Booking.com and Expedia have user-friendly interfaces, but some users may prefer the layout and design of one app over the other. It's worth exploring both platforms to see which one feels more intuitive and suits your needs.
The functionality and user experience of both apps are rated very differently. Looking at the overall score result, we can see that Booking.com has a higher score rating of 4.5 for user interface and experience (shown in blue). Compared to Expedia users, who give a rating of 2.6 (shown in orange).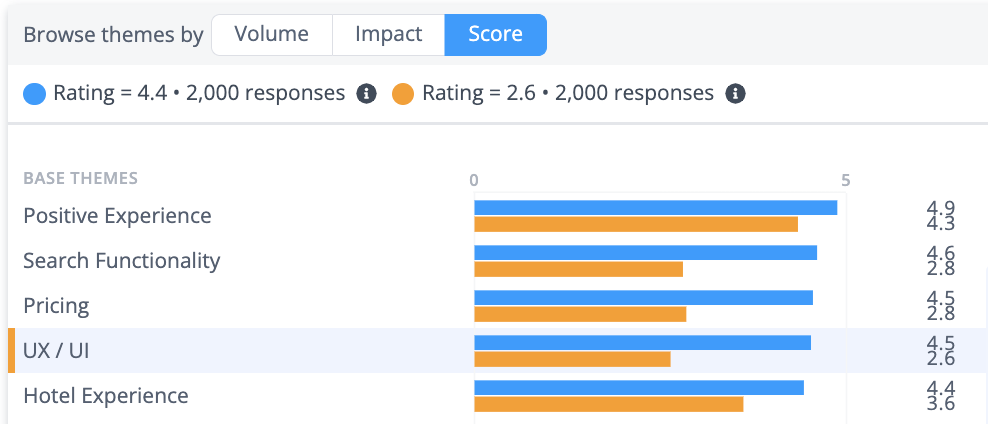 Both platforms have a similar volume of comments around functionality and user experience.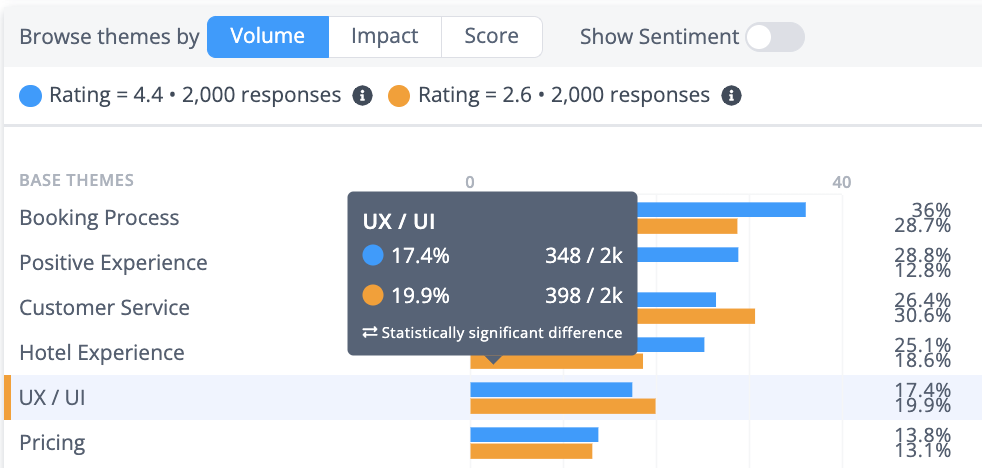 However, Booking.com contains more positive responses from users (shown below in green). While Expedia contains more negative responses (shown below in pink):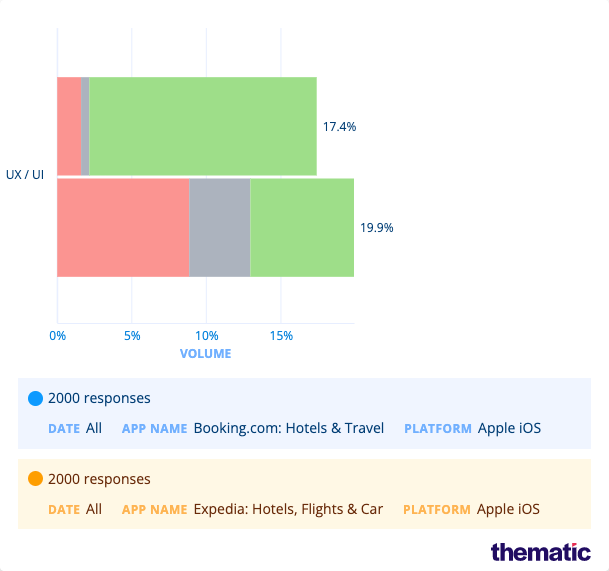 Tagged themes "ease of use" and "reliable"  have twice the amount of comments for Booking.com compared to Expedia.

Unfortunately for Expedia, it has a larger volume of responses for "bugs/crashes" "not working" and "login/password".

Thematic's Theme Summarizer feature provides an easily readable summary of the two platforms focused on the UX/UI theme:
Check out that large number of positive comments for Booking.com UX/UI at 89.4%. Expedia has just 38.9% positive comments, and 42.8% negative comments for user experience.
What about ease of navigation and search functionality?
Are the apps effective in helping people find suitable hotels based on their preferences?
Navigation:

There's a similar amount of responses here, but both the score and sentiment ratings are again more positive towards Booking.com. Booking.com customers are twice as likely to be positive about the app navigation at 77% compared to Expedia on 35%.

Summaries come with sentence clusters, so we can see what people are saying about each theme in their own words. Booking.com has a higher number of positive reviews that mention theme navigation.

Expedia's sentence clusters have fewer mentions of 'easy to navigate', and more negative comments.


Search functionality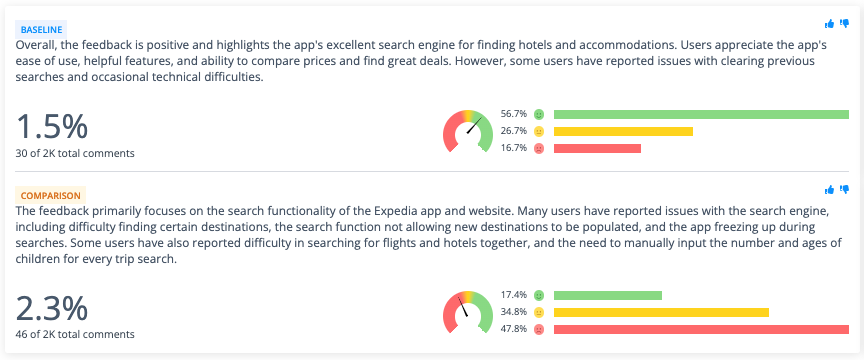 Booking.com comes out on top here, with users reporting their search as excellent for finding great deals and comparing pricing. Sentiment is also higher at 56.7% positive responses compared to 17.4% for Expedia.
It's also worth mentioning that nearly 50% of Expedia users complain about the search functionality.
On a more positive note, both Booking.com and Expedia are rated well by users for speed and responsiveness, with the majority of users submitting a positive response (in green):.
So for user experience and functionality, Booking.com is the clear winner.
Booking and selection
The booking and selection process is potentially the most important component to travel booking apps. After all, it is their core purpose.
Looking at overall score, Booking.com has a higher rating of 4.4 compared to Expedia users who give a rating of 2.6.

Both applications score highly on 'ease of booking' which suggests users find it simple to make reservations using either app.

However Booking.com has four times as many comments mentioning "easy to find" and "easy to book" compared with Expedia.


This tells us that more users find the booking experience easier with Booking.com.
Customers are very happy with the booking options and selections provided by Booking.com, with many praising the app's flexibility, simplicity, and variety of choices.
For Expedia, the feedback regarding booking options is mixed. Some users find the options limited and feel that they miss out on better options, without being given the choice to opt out. Others find the platform easy to use with great options available, but suggest adding more personalized profile options and more comparative quoting options.
The responses highlighted below show many users have a more positive booking experience with Booking.com.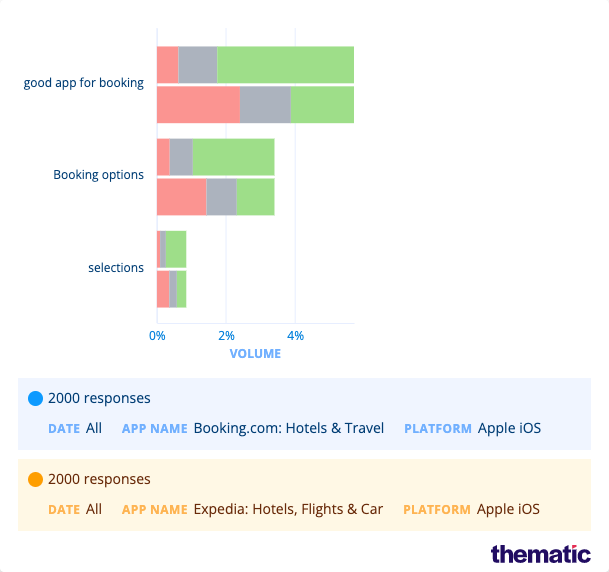 But it's not all doom and gloom for Expedia here. When it comes to hotels, Expedia users report mostly positive experiences, with excellent locations, rooms, and food being described in customer feedback.
This is shown in the total impact score, where hotel experience is the biggest contributor to improving Expedia's overall score. Not so much for Booking.com - comments that mention hotels are less likely to impact their overall score.

So it's a mixed bag. Overall, for booking experience, Booking.com is the winner. But when it comes to the nitty gritty of hotels and experience, Expedia users are happier and leave a higher score as a result.
Customer Support
What customer support issues do customers experience, and how do they contribute to a better overall experience?
Looking at the summary we can see similar complaints about lack of response and email communication. Expedia has a higher volume of responses overall, with much higher negative sentiment - 80% compared with Booking.com which has 50% negative sentiment.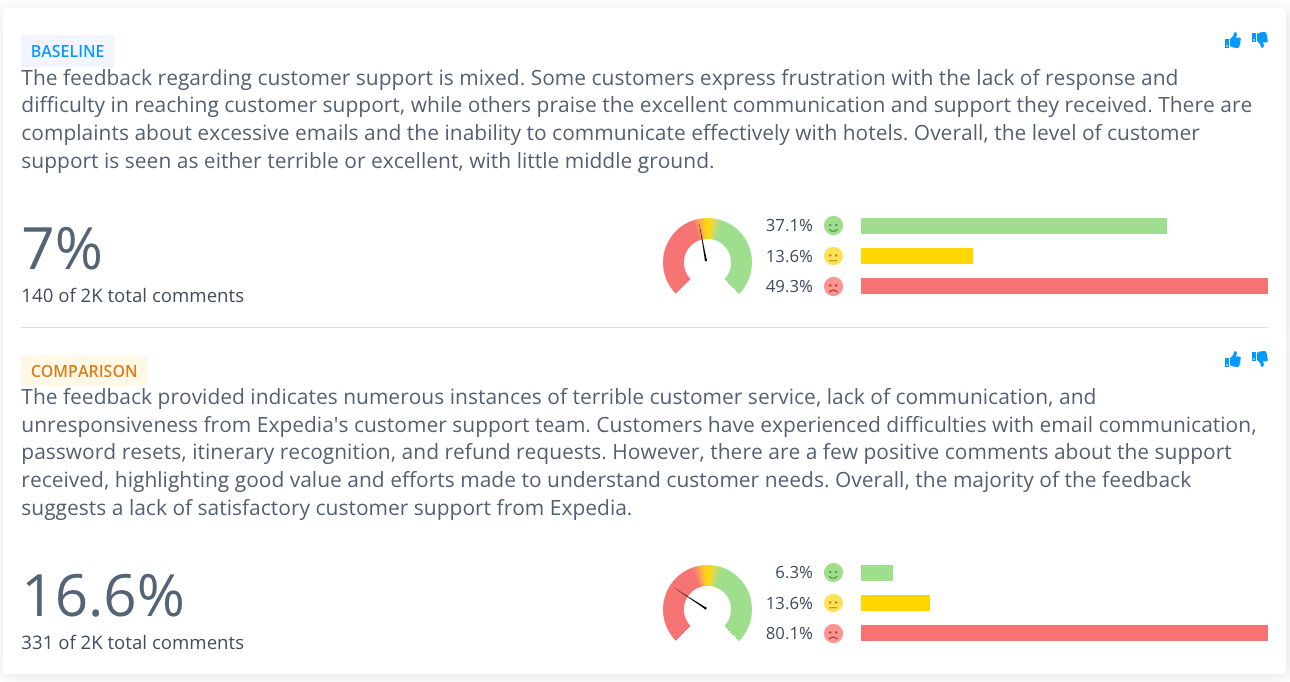 If we look across all the sub-themes for customer support, we can see that Expedia has a higher volume of responses for sub-themes including email and support agents.


Is the volume of responses for Expedia positive or negative?
Our sentiment analysis shows an overwhelmingly negative response when it comes to customer experiences with email communication and support agents.
But it is worth noting that while volume of responses and negative sentiment is higher for Expedia, Booking.com still has around 50% of customers talking negatively about email communication and support agents.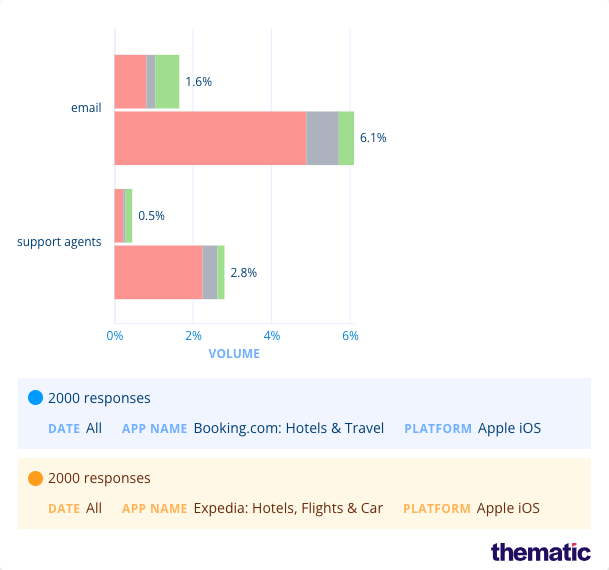 When it comes to lack of response and limited customer support, Expedia has four times as many responses.


This tells us that while Booking.com users have similar support issues, Expedia users encounter them more frequently and have an overall more negative experience with support.
Pricing
Pricing varies between Booking.com and Expedia for the same hotel or flight. It's advisable to compare prices on both apps or use price comparison tools to ensure you get the best deal. Additionally, both sites often offer promotional deals and discounts, so it's worth keeping an eye out.
Look at the overall score for pricing Booking.com comes out on top with a score of 4.3 compared to Expedia which is rated 2.5.

Lets start on a positive note with discounts and compare the two.
Already we can see a higher volume of responses for great discounts for Booking.com

Booking.com has a higher volume of positive responses for this theme, and only 5% negative sentiment. Compare this to Expedia customers, who give mixed opinions on great discounts, with 31% negative sentiment.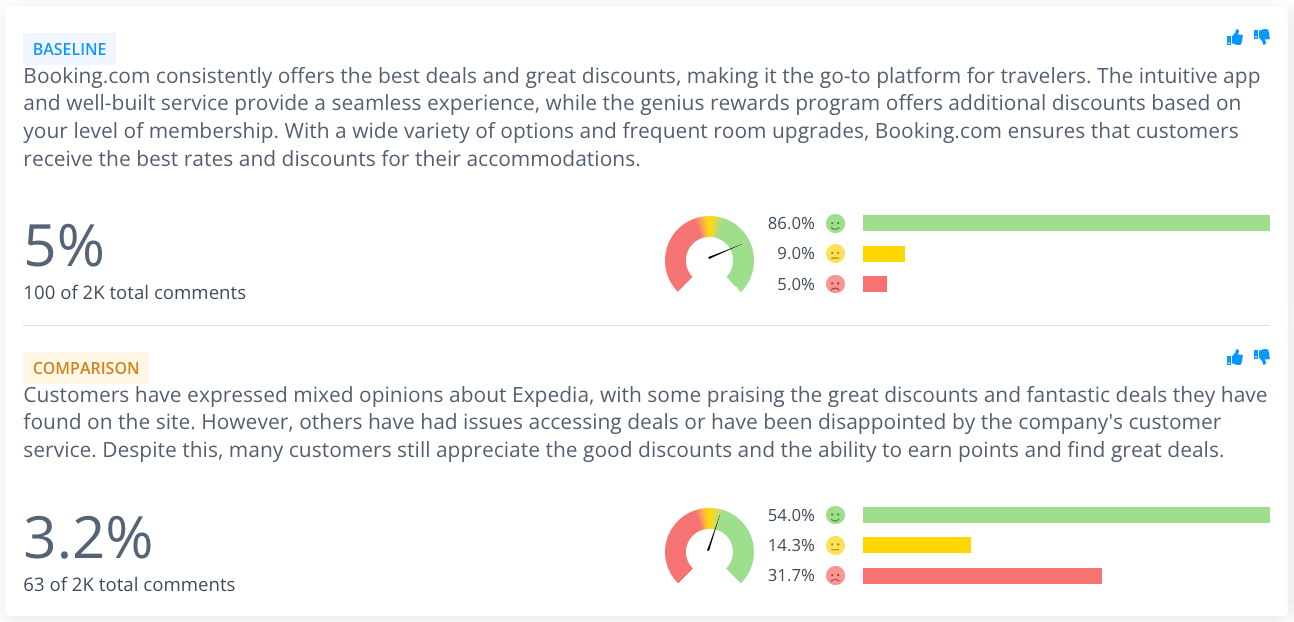 When it comes to feedback about good prices, the platforms have a similar amount of responses.

But when we look at the sentiment breakdown, Expedia has more negative responses when it comes to good prices.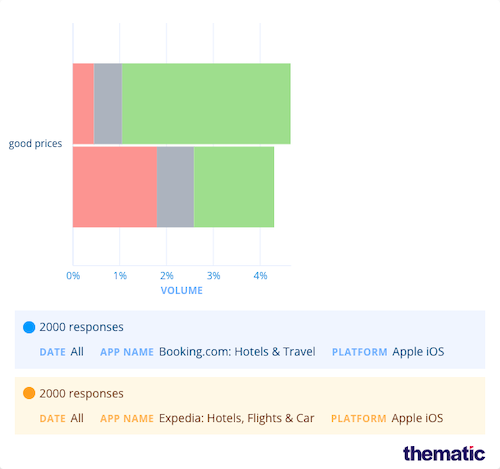 Our summarization feature gives further insight. It shows that expectations on pricing and price changes after booking are contributing to the negative sentiment.

Finally if we look at feedback on prices being expensive, we can see Expedia has a higher volume of responses.

Booking.com is the clear winner when it comes to discounts and pricing in general.
TL;DR
The best choice between the two ultimately depends on your specific needs and preferences, but Booking.com comes out on top from the reviews I analyzed. Here's the above breakdown, but bite-sized:
User Interface
Users adore Booking.com's easy-to-use and reliable interface, while Expedia tends to face more bugs and crashes. Despite a few hiccups, both apps zip along nicely and are quick to respond. But when it comes to helping folks find the best deals, Booking.com is the favorite.
Booking and Selection
Booking.com is the star in making booking a breeze, earning it a solid 4.4 score. Despite a slightly lower score, Expedia shines brighter in providing delightful hotel experiences. So, it's a toss-up between easy booking with Booking.com and cozy stays with Expedia.
Customer Support
Users experience similar issues across both platforms, including poor response times and limited support options. But, Expedia users encounter these issues more frequently and have an overall more negative experience with customer support.
Pricing
When it comes to who has the best prices, Booking.com comes out on top here. This is due to better availability of discounts, better deals, and more consistent pricing.
Final thoughts
All up, it looks like Booking.com is the clear winner when it comes to user experience, booking, customer support, and pricing. Customers experience less issues and have less complaints, compared to Expedia customers who encounter more issues and leave negative feedback as a result.
Across the base themes at a high level, the score overview shows Booking.com having an average of 4.5 out of 5. For Expedia, the average score is around 2.5 out of 5. When we break this down by sub-themes and sentiment, we can see which areas are contributing to the score that customers ultimately give.
So what should Booking.com focus on to drive improvement? From the analysis, it appears customer support is the biggest issue for users with an average score of 2.6 out of 5.
For Expedia, customer support is also the biggest issue. From the analysis, we can see that user experience, booking process and pricing have a high volume of negative responses and low overall scores. Yet, customer support has the biggest negative impact on the average score and also the lowest score on average at 1.5 out of 5.
A quick recap for everyone not familiar with Thematic: it's a feedback analytics platform that uses AI to organize and theme feedback from a wide range of sources, like surveys and app reviews.
Manually coding and analyzing thousands of text responses is almost impossible - it could take weeks, or months. With Thematic, it takes minutes.
You can still see all the customer verbatims, and fine-tune the analysis to better suit your company needs. This transparency makes it possible to speed up your analysis and have trust in the methodology and results - essential when you're an analyst who needs to defend their data!
If you'd like to see how Thematic works on your data, book a call with our team. We'd love to show you around the platform.